LEGO 71403 Super Mario - Adventures with Peach Starter Course
Condition: Original LEGO and brand new in Sealed Factory Packaging
Important/Disclaimer:
Item will be shipped in box / bubble-wrapped for extra protection
While we strive to ensure good condition with proper packaging and bubble wraps, kindly note that we are unable to guarantee the item's condition (including the box packaging) during the delivery as it depends on the courier services.
If you are a box collector/perfectionist, we encourage you to contact us for alternative collection method or think twice before you place your order.
Thank you for shopping with us at One Brick Planet
Product Description:
*Please do note that the flap are easy dented during shipment due to the product design.
Introduce children to the interactive LEGO Super Mario universe with this Adventures with Peach Starter Course (71403). It features a LEGO Peach figure that gives instant expressive responses via an LCD screen and speaker. LEGO Peach can be connected to LEGO Mario or LEGO Luigi (extra figures not included) via Bluetooth to win bonus coins for teamwork.
Fruity fun
Have fun with gifting challenges and launching the Lava Bubble to topple Lemmy from a tower. Earn digital coins for helping LEGO Peach ride the swing set and for interactions with the Yellow Toad. The Flying ? Block offers rewards too. The red fruit in this toy playset can be 'eaten' by LEGO Peach, triggering happy reactions and earning extra coins. It can also be gifted to the Yellow Toad or another interactive figure (not included). Find building steps in the LEGO Super Mario app.
Unlimited creativity
Collectible LEGO Super Mario Starter Courses and Expansion Sets allow fans to expand, rebuild and create unique levels.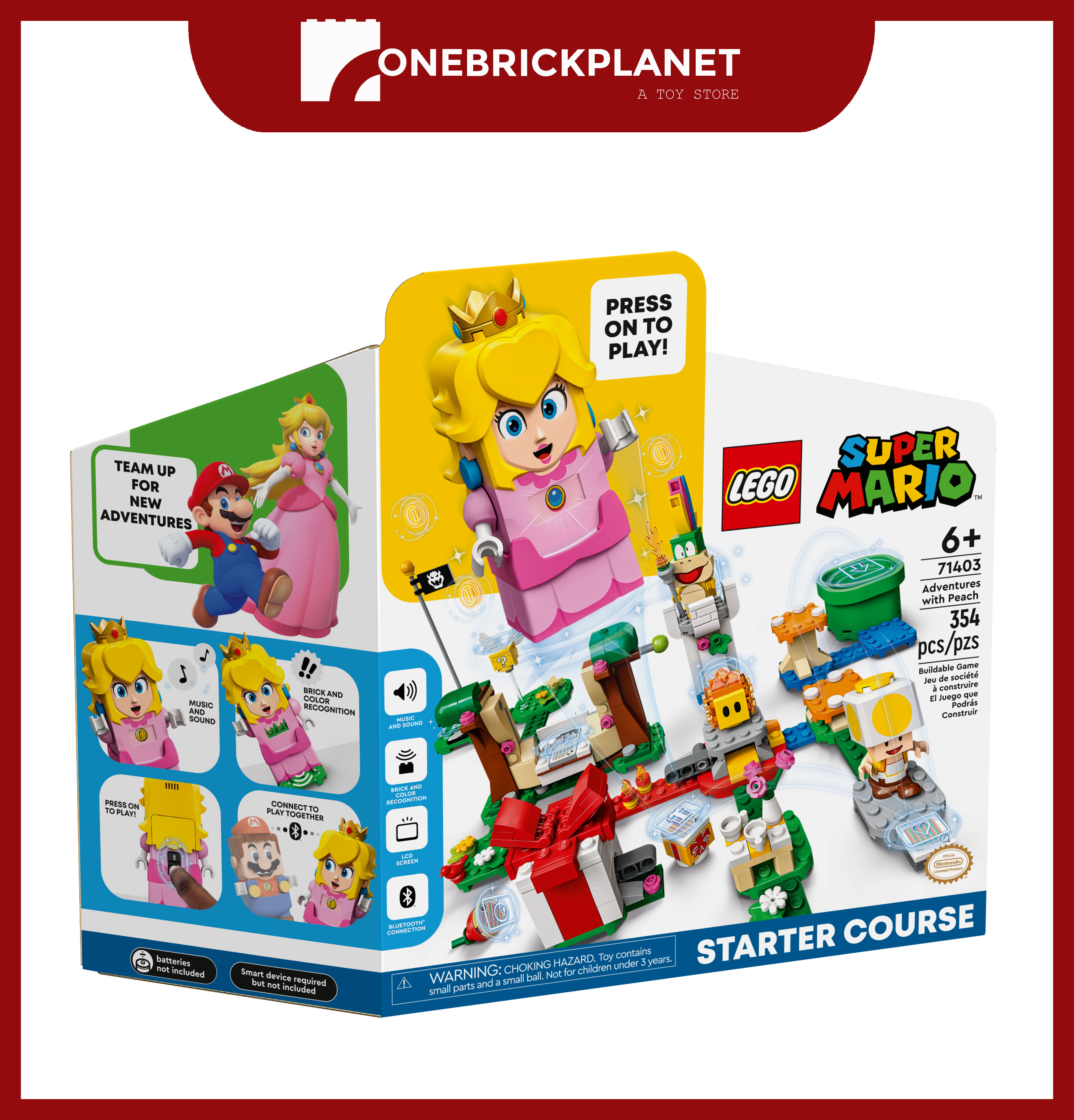 ---