Funko Pop! Comic Covers: DC - Batman (01)
Condition: Original Funko
Item will be shipped in a box and bubble-wrapped for extra protection
Will not guarantee for item's condition upon received from courier services
Thank you for shopping with us at One Brick Planet
*Box Condition: 9.9/10
*Buyer from KL/Selangor can self-pickup
Product Description
Batman - Batman #1 Pop! Comic Covers Vinyl Figure
Ever wanted to own an original copy of Batman Comics #1? Well all you need is two million dollars in spare change and it could be yours! Haven't got that kind of money? Don't worry, neither do we, but what we can offer you is the next best thing, Funko's incredible Batman Comics #1 Pop! Comic Covers Vinyl Figure!
Each Pop! Comic Covers figure comes packaged in an exclusive oversized protector case and features a comic cover as the backdrop.
This amazing set features the Caped Crusader from his very first comic book, standing in from of a backdrop reprint of the Batman Comics #1 front cover.
A really unique piece of Batman memorabilia and an absolute must for any true fan!
NOTE:
We cannot control slight manufacturing variations and are not able to replace items based on these variations, including but not limited to minor paint flaws or figure positioning. Blemishes to packaging will not be considered as part of a damaged figure.
The outer packaging/box is to protect the collectibles inside, and the product is not sealed. It's encourages you to take your Pop! figures and other products out of the boxes to enjoy them! Even if you choose to keep your figures in the boxes, we are not able to replace packaging.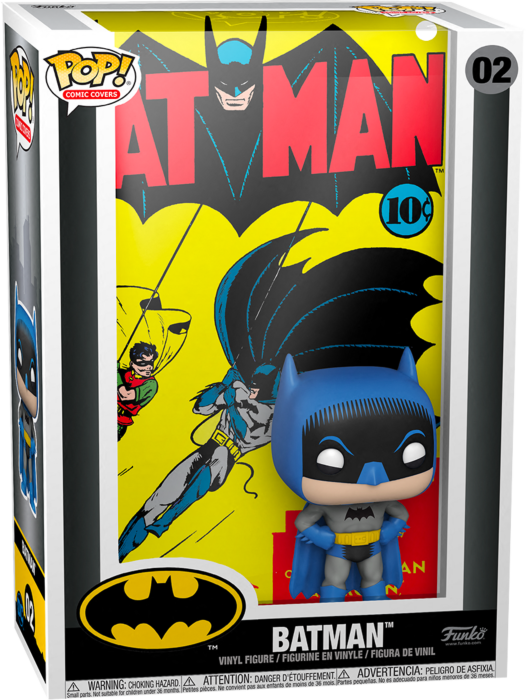 ---